The Mahana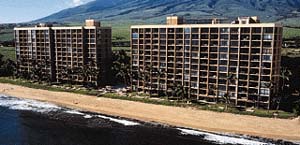 Aloha! We thought you might like to see the guest comments we have received about The Mahana.
---
From: XXXXX XXXXX, To: Royal Hawaii Condos Subject: Our trip to Hawaii
Dear Dave:
We wanted to thank you for the excellent recommendations on properties to stay at on Kauai and Maui. We stayed at the Kauai Coast Resort in Kauai and at the Mahana at Kaanapali in Maui. Even though the weather was less than ideal for part of our vacation, we enjoyed the islands yet again, and the value of the properties your site recommended was excellent.
The Mahana at Kaanapali is in excellent condition, and also appears to be in the process of being significantly upgraded. The views are spectacular since each unit faces the ocean--the staff is truly caring and helpful. We happened to have been assigned a room on the top floor, and frankly, the sensation was one of being on a cruise ship rather than in a land property--you had to get right up to the window to see the shore in front of the property, and the views of Lanai and Molokai were spectacular. As other guests have written, to sit on the lanai and hear the surf was a treat, and, even though most whales had left Maui for their migration north, we were privileged to see several mother and calf humpback whales swimming in the channel in front of our unit. On the morning of the day we left for the home, a brief shower passed by, and a beautiful rainbow appeared in front of the property, which expressed how we, too, felt about the Mahana.
That we chose either of these properties is totally due to the recommendations and excellent descriptions on Royal Hawaii Condos website, plus competitive pricing that provided a great value. We'll join in the chorus of your satisfied and delighted clients who chose the Kauai Coast Resort and the Mahana at Kaanapali.
Thank you again for all your help with our vacation to Hawaii.
Sincerely,
Bill & Kathy
Subject: The Mahana From: XXXXXXXXX@home.com> Organization: @Home Network To: Dave Williams <davewil@mc.net>
Aloha Dave,
I cannot tell you how much we enjoyed staying at the Mahana. It was absolutely heaven! Wonderful people and service, great views of the ocean and the Islands of Molakai and Lanai, beautiful sunsets and that peaceful sound of the waves crashing on the beach every night to go to sleep by. I could not have asked for anything better. The place was very nicely decorated and comfortable, with all of the creature comforts of home.
I want you to know that we spent the last three days in Maui at the Kea Lani Resort and Suites in Wailea. We wanted to stay on another part of the island just to see the difference. We had a deluxe, ocean front room there also but it COULD NOT hold a candle to the Mahana. The kitchen at the Kea Lani was so small that every time you used the microwave, you could not open the front door. The bathroom floors and shower area were all marble (which is very pretty) but you almost broke your legs and neck walking on the floors, especially when taking a shower. Also there were no screens on the sliding balcony doors so every night you had a million small flies in your room buzzing around the lights and your head. The room, as I mentioned before, was ocean front so we had a nice view but because the resort is so large you were not close enough to the ocean to hear the waves. I really missed the sound of the ocean during my last three days.
Anyway, thanks again for all of your assistance in making sure that we had wonderful accommodations during our vacation in Maui. I am sure that on our return trip to Maui, we will contact you again to reserve a place for us at the Mahana.
Mahalo!
---
Subject: Maui Vacation--The Mahana From: XXXXXXXXX@email.msn.com> To: <davewil@mc.net>
Hello! We just wanted to thank you for your help in finding us a room on our vacation. We just got back last night. We stayed at the Mahana. We had a great time. The room was great. We had a nice view of the Ocean and the people were great. We plan on going back to Maui next year and will get in touch with you so you can reserve a room for us once again. Thanks again, it was great.
---
Subject: How was Maui? From: XXXXXXX@compuserve.com> To: "INTERNET:davewil@mc.net" <davewil@mc.net>
Dave,
Sorry I haven't sent you a note sooner. We loved the Mahana. Thank you so much for arranging this for us.
Yes, I was really surprised that we got the one bedroom instead of the studio. It was very comfortable and spacious. We really loved the layout, with the access to the lanai from both the bedroom and the living room.
Other things we loved were the closeness to the ocean and the way you could really hear the waves breaking all the time. We also loved the location itself, away from the noise and bustle of the bigger Kaanapali resorts. It is really nice the way all of the units have that full ocean view.
The staff was friendly and helpful and even the littlest things were done right. Overall we enjoyed our stay at the Mahana more than we enjoyed our previous stays at The Whaler. It was nice and quiet around the pool, just what we were looking for. Even the parking lot is better, I think!
The weather was perfect for our vacation (I guess you were having a dry spell, but it was great for us) and the whale watching from the lanai was amazing. Everything came together just right. And even though it was hot, we had a terrific time at the Maui Marathon too.
If we return to Maui for a vacation, which we probably will at some point, I will be sure to contact you about staying at the Mahana again, and I will definitely recommend it to my friends.
Thanks again
---
Subject: Our impression about you Condo From: XXXXXXX@mb.infoweb.ne.jp> To: <davewil@mc.net>
Aloha Dave Williams,
Yes, my family and I did have unforgettable days at Mahana. The room was comfrotable and clean, and the equipment of the kitchen was perfect. Anything of all, the view. The sunset, wales, islands, beaches, winds, and anything elese. My family insists to visit Mahana in the nearlest future, hopefully this summer, though there are some constraints to makes me say yes. Anyway we all have to come to love Mahana. If possible I'd like to be the owner of the Condo. It will be so nice if you could notify us when ther is such chance.
---
Subject: ALOHA From: XXXXXX@aol.com> To: davewil@mc.net
Aloha David,
We are, and have been since 2/18, extremely happy in Unit 915, thanks to you! After taking some trips around Maui we both feel that the Mahana is the best. We also appreciate your arranging the rental car for us.
As you are an owner here we feel that you would be in a good position to learn about any units that will come up for sale - on the upper floors - for our consideration. Hopefully when this happens you will remember us!
Again, Aloha and Mahalo
---
Subject: Re: How was Maui? From: XXXXXX@enteract.com> To: davewil@mc.net References: 1
Dave Williams wrote:
Dear Dave: I cannot say enough good things about our time spent in Maui at the Mahana. Everything exceeded our expectations. We've stayed at Maui Condo's before but none that had the convenient good location nor the ambiance in furnishings at a reasonable price that we found here. My only regret was that we didn't book for a longer visit. We hope to come back at another time and will be in touch with you when we do. Regards, Bill
---
Subject: Re: How was Maui? From: XXXXXX@sympatico.ca> To: davewil@mc.net References: 1 , 2 , 3
ALOHA DAVE!
SINCE RETURNING TO CANADA I HAD FULL INTENTIONS OF GETTING BACK TO YOU AND REPORTING OUR THOUGHTS AND THANKFULNESS FOR SUCH A LOVELY HOLIDAY AT A FIRST CLASS ACCOMODATION.
THE SUITE WE STAYED AT WAS 1214 AT THE MAHANA AND IT WAS BEAUTIFUL! LOCATION SUPERIOR, STAFF COURTEOUS. WE HAD NO PROBLEMS WHAT SO EVER.
DAVE, WE CAN'T SAY ENOUGH ABOUT THE MAHANA. THE LOCATION COLD NOT BE ANY BETTER OR CLOSER TO THE OCEAN.
IN TALKING TO THE STAFF, WE WERE LEAD TO BELIEVE THAT RESERVING A SUITE HERE IS NOT THE EASIEST TASK. I UNDERSTAND THAT MOST PEOPLE GO THROUGH A TRAVEL AGENCY WHO HAVE PURCHASED LARGE BLOCKS OF CONDOS TO RENT OUT.
SHOULD WE EVERY WIN THE LOTTERY, IS THERE ANY CHANCE OF GETTING A SUITE IN MAHANA BUILDING AGAIN? WOULD WE GO THROUGH YOU? I TRIED TO ASK THESE QUESTIONS TO JUDY BROWN ON MY LAST DAY, BUT IT WAS HER DAY OFF.
THE THING THAT WE MISS MOST IS THE WARM WEATHER! PRESENTLY WE ARE FACED WITH FREEZING RAIN HERE IN TORONTO. YOU MAY HAVE HEARD OR SEEN REPORTS FROM QUEBEC. A STATE OF EMERGENCY HAS BEEN ISSUED THERE DUE TO THE SAME WEATHER. TWO MILLION PEOPLE HAVE BEEN WITHOUT ELECTRICITY FOR OVER SEVEN DAYS. WE NEED TO SEE A DOCTOR LIVING IN WEATHER LIKE THIS!
ONCE AGAIN, MANY THANKS FOR YOUR ASSISTANCE AND HAVE A HAPPY AND PROSPEROUS NEW YEAR!
---
Subject: Re: The Mahana From: XXXXXX@kih.net> To: <davewil@mc.net>
The condo was excellant.
The weather was superb.
The food was great.
The sight seeing was stupendous.
The rainbows were fabulous.
The natives were friendly.
The place was unforgettable.
We drove 625 miles in 9 days, saw the entire island.
I took 275 photos.
We saw places we didn't know existed.
We visited Hana, Paia, Lahaina, Kahaluui. I can't spell the names of all the other places we saw.
We didn't drive beyond the 7 sacred pools, but I did drive around the north end of the island.
I have some beautiful photos taken from your condo's balcony if you're interested (would need to be via snail mail).
We saw rainbows, double rainbows every day.
We got free tickets to see Kentucky basketball, our only regret was we lost.
We went to the Luau at 515 Front St. Great.
We Will Be Back!
We had a picnic lunch on the way to Paia one day. Made a second trip that way to get to Hana. Spent the day in Paia once, and found it facinatingly sixty-ish with the hippies.
Thanks for the use of your condo. Some day we need to meet!
---
Subject: Re: The Mahana From: XXXXXX@cdsnet.net> To: davewil@mc.net
Hi Dave,
Of course the Mahana was fine. That was my second time staying there and I would go back again without any hesitation. We stayed in room 712 and it was decorated delightfully.
I have a friend who may visit Hawaii for the first time and I will try to stear him to the Mahana through your web site, because I think you offer a good value.
Best regards and thanks for asking,
John
---
Subject: Mahana and Maui From: XXXXXX@aol.com> Organization: AOL (http://www.aol.com) To: davewil@mc.net
Hello! I just wanted to drop you a quick e-mail about our trip to Maui and the Mahana. I cannot tell you how impressed and pleased we were with the Mahana and our unit #319. We had the view we wanted and spent many hours simply sitting on the lanai and enjoying our view - it was fantastic. The unit was convenient to everything we wanted to do and was clean and nice on top of that. The Mahana staff was very courteous and helpful with anything from island activity information to lizard information (we had a few small lizards in the unit and didn't know what to do - hey, we are from Minnesota - we didn't realize they were such a good thing). All in all, we had a fantastic time and thank you very much.
There is one thing you may want to know, however. Since we were travelling with a few other couples we did car comparisons and as it turns out, the best deal by far is with Budget. You can get a new Altima for significantly less. We did have a small nightmare with our car - it was an old Buick Century that broke down on us. We weren't sure where they dug the car up from, but it was old and ran really poorly. To their credit, Alamo was fairly quick in bringing a new car to us, but by that time we had missed our dinner reservations and were covered in grease. And, our second car had a flat tire when we got it. Needless to say, when recommending, I would go with Budget.
However, we had a wonderful trip and look forward to returning some day. I know that when we do, we will be contacting you and looking for a unit at the Mahana.
Thanks again for all of your help!
---
Subject: Re: Maui and The Mahana From: XXXXXX@internetMCI.com> To: davewil@mc.net References: 1
Sorry it has taken me so long to get back to you. I have been out of town and then the holidays hit. We had a great time at the Mahana. The rooms were lovely and so was the view. Unfortunately we hit some bad weather during our stay. The units are great. The only thing lacking seems to be a hot tub--any plans in the future to put one in? It seems the facility could handle it quite well in the courtyard area. Debbie
---
Subject: Re: Maui and The Mahana From: XXXXXX@cis-corp.com To: davewil@mc.net
Dave,
We had a great time. This was our fourth trip to Maui and the best yet. The Mahana is well located for the activities we enjoy. The rooms were much better than I expected for the price and very clean. Thanks again for your help.
Bill
---
Subject: Great Vacation From: XXXXXX@aol.com To: davewil@mc.net
Just to let you know we had a great vacation in # 509..Could not have asked for more..Would like to come back for 2-3 weeks any good deals coming up???
---
Subject: Re: The Mahana From: XXXXXX@tanbac.co.jp> Organization: TANBAC To: davewil@mc.net References: 1
We had a good time, We wish stay again. Mahalo.
---
Subject: Re: The Mahana From: XXXXXX@aol.com To: davewil@mc.net
Hi Dave,
We had a great time in Maui and the accomodations in the Mahana were excellent!!! This morning I filled out the questionnair that was left in my condo the day before i left. I highly recommend the Mahana!!!
Regards
---
Subject: Apartment #816 From: XXXXXX@worldnet.att.net> > To: davewil@mc.net > >
I was browsing the NET today, looking for information about Maui, and couldn't believe my eyes when I found your pictures of apartment #816 on the Mahana web page! My wife and I stayed in that exact room last week (March 24 thru March 28) and had a wonderful time. I signed the guest book, but had to send you a note to let you know I found your pictures. The pictures don't do it justice - it was beautiful (the apartment and Maui.) We are already talking about a return trip some time next year because we didn't begin to see everything we wanted to see on Maui this trip! Again, it was great and we enjoyed ourselves very much!
---
Subject: Re: Maui From: XXXXXX@mail.mei.com > To: davewil@mc.net
Our trip was great and so were the accomadations on Maui. I think that we will definitely stay there again when we go back. Thanks for all of your help and the rate that we paid.
---
Subject: Re: How was Hawaii? From: XXXXXX@aol.com To: davewil@mc.net
Dave:
The Mahana was exactly what we expected, great! We got the room we asked for and had a wonderful time without a problem. Thank you for providing the service.
Ron Simms
---
Subject: Re: How was Hawaii? From: XXXXXX@EARTHLINK.NET> To: davewil@mc.net References: 1
IT WAS WONDERFUL!!-PROBABLY THE BEST VACATION WE HAVE HAD THE MAHANA WAS GREAT. EXACTLY WHAT I WAS LOOKING FOR. A KITCHEN IN THE ROOM, A PATIO, AND A VIEW THAT WAS INCREDIBLE. WE WERE ON THE FOURTH FLOOR--WOW WHAT A VIEW. THANK YOU FOR YOUR HELP.
---
Subject: RE: How was Maui? From: XXXXXX@microsoft.com> To: Dave Williams <davewil@mc.net>
Dave, thanks for checking. The Mahana was great. The room where we stayed was very nice, the staff was friendly and efficient, and we enjoyed our time there a lot. I'm sorry it didn't work out for us to stay longer. But we enjoy Maui a lot and I'm sure we'll be returning in the next few years. I've saved your web site in my favorites list and will check with you again when we go back.
Regards
---
Subject: Aloha, Mahana From: XXXXXX@pop.k12.vt.us (Karen Midi (LAK)) To: davewil@mc.net
Hi! We want you to know that we just returned from a stay at the Aston Mahana. We were in #318, which was similar to the pictures you showed. We had a lovely time there and are looking forward to returning in two years for our 25th anniversary. It's a real let-down to have to return to Vermont where it was SNOWING today. Enjoy the warmth of the sun. It'll be another month before we can even think of wearing shorts!
---
State of Hawaii Travel Agency License TAR-5067




Toll Free Phone and Fax:
888-722-MAUI (6284)
847-574-8200 Fax

©2003 Royal Hawaii Condos